Panamukkumpally Sastha Temple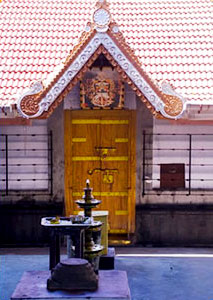 The Panamukkumpally Dharma Sastha Temple is situated about 2 kilometers east of Sree Vadakkumnathan Temple Thrissur. The idol, which is said to be 2500 years old, symbolizes Sree Dharma Sastha mediating Padmasanam with a pot filled with Amrit in hand. It is very rare to see such a posture of Sri Lord Sastha. The other idols of the temple are Lord Shiva, Vinayaka and Nana Durga. It is believed selfless devotion and prayer, with complete dedication to the Lord Sastha can cure even major diseases. It is also very auspicious to begin education of children in divine presence.
Thekkemadom Swamiar who migrated from Kottayam to Thrissur constructed this temple at Kizhakkumpattukara for "SRI AYYAPPA" which they have brought along with. The decedents of Madom make customary visit to the Temple and offer Pushpanjalis to the Lord.
Years later, the Prominence of the Madom faded and that administration was handed over to Bharanasamithi elected by the devotees of Kizakkumpattukara and the administration is managed by the Bharanasamithi.
Last year Devaprasnam was conducted and it was found that immediate action should be taken to renovate the SreeKovils Temple and Thidappilly. Accordingly the work was started. Sri Kovils of Sri Sastha and Lord Siva's roofing changed with Copper sheet and the temple Thidappilly Sri Kovils of Danadurga and Vinayaka changed with concrete roofing tiles on the top and all the works completed within the target period.
Flag hoisting will be done before 7 days in advance. The pooram will started at 7am from the temple with 3 decorated elephants accompanied by Panjavadyam and Nathaswaram via East Fort Junction and arrive at Paramekkavu Temple and enter into Sri Vadakummnathan Temple via East Gopuram, ends the function return via South Gopuram. Same Process would repeat in the night also.
The pooram will start after flag hoisting festival ceremony. From the flag hoisting onwards there would be Kerala Kala Programmes. Kodi Erakkal will be done on the next day of pooram festival. Next day in the evening known as Aarrat. In addition to Pooram festivals there are other festivals such as Navarathri Pooja Sri Sasthan Vilakku and Laksharchana in the month of November and the Sastha Prathishta with Annadanam in the month of December for nearly 1500 people would participate in the Annadanam.
The surroundings of the temple are a residential area calm atmosphere most of the residents are Hindus.
View Photo Gallery