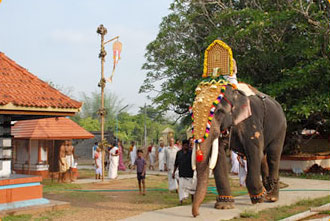 Naithalakkavu temple is situated, 6 km north of Thrissur city in a village called Kuttur. It is under Cochin Devaswom Board. The temple has been considered to have connections with Cochin Royal family, in the days of their reign the Amma of Naithalakkavu had a special place in Shakthan Thampuran's Palace then. The Amma is considered to be the deity of the village Kuttur, which has been surrounded by Siva Temples. The Naithalakkavu Amma has the sole authority to open the Thekke Gopuram(South Gopuram) of Vadakkunatha temple for the Thrissur Pooram.
The sanctum sanctorum of Shiva in this temple is one of the largest rounded sanctorum in Kerala. Besides Siva and Naithalakkavu Amma, Sri Durga, Shastra, Ganapathi, Anthimahakalan, Rashasu & Dampathu Rashasu is been present as Upadevas. A Rashasu named Kelumman is installed under Alstonius (Pala) tree outside the walls of the temple. The Naithalakkavu Amma is faced towards west, while Siva is faced to east direction. It is an important temple among Vadakkunthan's Rishabhagiri temples.
Sri Mahadeva
The Siva linga is considered to be self incarnated. The Peeda of the Siva linga is large and the sanctum sanctorum might be built after the installation of the Peeda. The age of Siva temple has not yet been found out. It has been known as Pallipuram Khestra. The Siva is installed in Rowdra bhava here.
Sri Ganapathi
The Sanctorum of Ganapathi is on the side of Siva's sanctum sanctorum. It is believed that Ganapathi is seated on Siva's lap, that is why Ganapathi's sanctorum conjoined with Siva's and is known as "Okkathe Ganeshwaran".
Durga
Durga is installed in outer sanctorum faced to west. As it is considered that the deity is related with "Cochin Royal Palace", the Durga is also known as "Kottarathil Bagavathi".
Shasta (Sasthan)
Sri Sasthan is installed at the south west portion of the temple facing towards east. Priority, the Shastra & Ganapathi were in a single sanctorum, and Shastra has been re-installed to the present position in 2001 after "Astamangalaym".
Anthimahakalan
Anthimahakalan is on the right side of Naithalakkavu Amma, facing towards east. Anthimahakalan is believed to be the Senapathi of the Amma and has arrived here along with the Amma from Arimbur.
Rashasu & Dampathi Rashasu
Present on the south partition of the temple in a single sanctorum.
Kelumman
It is considered that, Kelumman was a devotee of the Amma and is installed outside the wall of the temple below a Alstonius (Pala) tree.
View Photo Gallery