Chembukkavu Karthyiayani Temple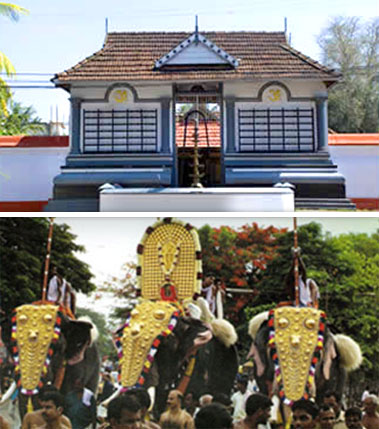 One among another 108 Durga kshetras "Karthyiayani" with Vigneswara and Dharma sastha are deities here. Since the deity is allergic to sunstroke is forced to return on pooram day before the temperature rise and pleased to travel again in the wee hours according to legend. However the foremost offering is "Nai Vilakku" (Ghee is used instead of oil to lighten the lamp) in this temple substantiate the story of "Headache". The chieftains of the foremost among the 32 grammas of Kerala (to be translated as corporations) Thrissur Namoodiries and Dutches had a long legal battle about the ownership of this temple. The history long back to 280 years. Another version of the story is simple, innocent and straight forward namboodiri families were drawn to this politics between His Excellency of Kochi & the Dutches.
It is believed that while digging for foundation the parts of this Kshetra was found and hence this temlple. The ooralan was Cungrath menon family. Sri Kathiayani temple at Chembukkavu coming under the direct control of the Cochin Devaswam Board. With its proximity to the Paramekkavu and Thiruvambady temples and its rich tradition of giving spiritual solace to hundreds of its devotes, the temple plays a major role in the Thrissur Pooram every year.
It is customary for every temple to undertake renovative work at least once in every twelve years. But unfortunately no such work or Dosha pariharakarma was done here at least once in the last one hundred and odd years. In the year 2002, a Devaprasnam was conducted which categorically recommended the performance of Naveekarana Kalasa preceded by an Ashtamangalya prashnam. As a result, under the able guidance of Sri Paravoor Sreedharan Thandri an Ashtamangallya prashnam was conducted on December 9,10 and in 2002. It threw much light on the hitherto unknown history of the temple.
The Kshethra Kshema Samithi consisting of a group of like minded devout Hindus has ever been in the forefront lending every possible support for the development of the temple. As per the direction from "Charth", a blue print of works was prepared by Bhramasree Kanipayyur Krishnana Namboothiripad, the much renowned vasthu expert in consultation with Bhramasree Puliyannur Sankaran Namboothripad the - Thanthri
Samithi was able to complete the following works with blessing of the Bhagavathy.
Provided Main door of the Temple
The 14 pillars of the Chuttambalam
Provided boulders around the temple
Paved ceramic tiles in the Valiyambalam
Provided three big doors to the Chuttambalam
And finally theNaveekarana Kalasam.was performed with all thanthric rituals from 2nd April 2009 to 12-04 2009
View Photo Gallery