Laloor Sree Karthiyayini Temple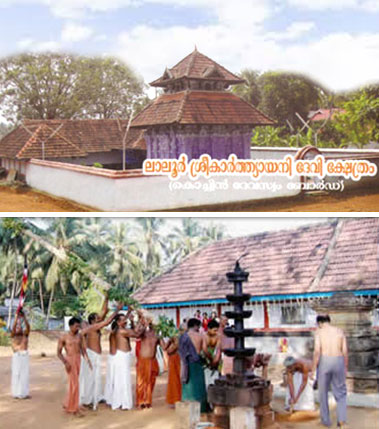 Laloor Sree Karthiyayini Temple is one among 108 Durgalayas found by Saint Parasurama. This temple is located at Laloor, 5Kms away from Sree Vadakumnatha temple in south - west direction. Laloor Sree Karthiyayini temple is distinct in many ways. There is no sub - shrines in the temple. The size of the "Valiya Balikkallu" is nearly 8 Feet high which shows that the type of prathistha. Temple architecture is closely connected to Sankaranarayana temple in Vadakkumnatha complex. The priests were from the same family who were head priest of Sree Rama temple of Vadakkumnatha temple. The sanctum sanctorum and mural paintings are in the shrines. The Kerala style of architecture, the gothic style of mural painting of the temple are without any parallel. The temple was owned by Mannath family. Due to various reasons the temple was taken over by Cohin Dewasam Board.
Laloor:Gramadevatha of "Aranattukara". "Chathur bahu vigraha". OORALAN: Moolathadam Nair Family.
Pooram: Laloor pooram has the privilege of the first pooram to hoist the pooram flag before noon of the "Kodiyettam" day. System followed is "Padahadhy" style. The next day o f "Kodiyettam" Laloor Bhagavathy, after daily rituals travels to Pookkattikkara - Karamukku temple. After the poojas there, Devi travels back to Laloor along with Karamukku Bhagavathy. It is believed that this courtesy call to fellow pooram participant was another extinct rituals where all ten participants followed once.
Laloor Pooram: On the seventh day after Tantric Poojas. Laloor Bhagavati's "Ezhunnallippu" starts Pooram muhurtham at 6.30 a.m. Along with "Nadhaswram" and Panchavadhyam with five elephants, the Ezhunnallippu reaches at Naduvilal of Swaraj round. During the course of time the number of elephants increases to nine. The melam starts procession moves to Sreemoola Sthanam with Pandymelam and ends at 10.30 A.M. the deity go inside temple to pay respects to Lord Vadakkumanathan and exit to Southern gopuram and returns to Laloor.
Night Pooram starts at 6.30 p.m from the temple and the day time routine is repeated. Next day after "Kodikkal Pooram", "Kodikkuth" and "Uthram Pattu" the celebration ends.
Other Festivals: Thrikarthika, The ezhinullippu with three elephants starts from the temple and goes to "Ashtamangala Shiva" temple of Karyattukkara (2Kms from Laloor) and returns before "Deepa Aradhana" to witness "Karthikavilakku". There one more ezhunullippu on Sivarathy day to Vadakkumnathan.
View Photo Gallery