Kanimangalam Sastha Temple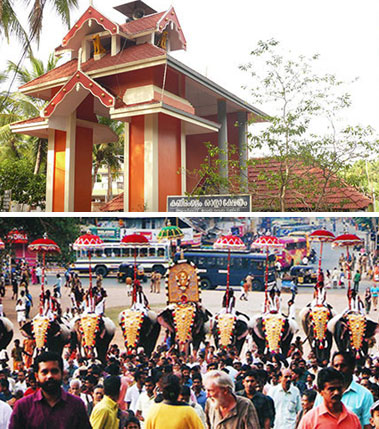 The Kanimangalam Sastha is the first God "who is the incarnation of "Brahspathi" (Deva Guru) - which is the premier pooram entering Sree Vadakkumnathan.
Starting its journey on pooram day at 4 O'clock in the morning accompanied by Nadapandy and Nadaswaram and associated with 3 elephants and reaches Kulassery temple at Veliyannur. More chenda artists with a strength of 100 numbers accompanied by Pandymelam, it reaches to Manikandanal pandal from were it turns east and enter through Southern Gopuram of Vadukkumnatha Temple and reaches Elinjithara. Sree Vadakkumanathan pay great respects to Deva Guru and Honour him opening Lord's Thirunanda. After the Pandymelam the deity with 14 elephants passes through western gopuram in front of Sreemoolasthanam were the Pandymelam at its brisk point performed and finally ends the day times pooram.
The same process repeated in the evening at 6.30pm and the Pooram ends by 9 O' clock. The next day there is Uthram Vilakku at Sastha temple with Aarattu and with Thanthrika Poojas and other ceremonies the curtain of Kanimangalam Pooram ends in the temple. The hoisted flag on a temporary areca nut tree have been pull down by the elephant.
Kanimangalm is surrounded with paddy fields. The kole lands are over the resting place of migratory birds. It looks like a lake during Monsoon season.
The Methevar Siva Temple just 100 meters away from the Sastha temple is very famous. Originally founded by a great Brahmin family Thachanat Moss. Subsequently on the decline of Thanchanat Moss these two temples merged to Valiyalukkal group of Devaswoms managed by Panamukkath Malaikkal Naduvazhi. This legendry Naduvazhy forcibly brought 7 gold accruements and Gold kolam from Kuttanellur Pooram as directed by the Raja of Cochin. Under the Raja of Cochin this Naduvazhi was a powerful chieftain. All the temples administration and trusteeship soon remain in this family.
View Photo Gallery