Choorakkottukavu Durga Temple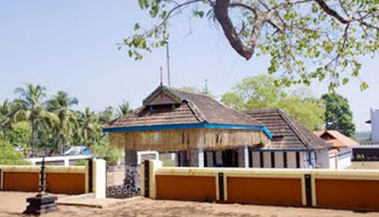 Choorakkottukavu Sree Durga Temple situates under the valley of vilangankunnu, the famous Tourist Kendra in Trichur. It locates on the Eastern side of Trichur - Kunnamkulam Road. The distance from the Temple to Trichur town is only 8 K.M. this is one of the oldest Temples in Kerala. According to mythology the "Prathishta" of this Temple was done by Parasurama. After defeating the adamant Kshathriyas Parasuraman created 108 Durga Temples and 108 Sastha Temple in Kerala.
"CHORAKOTTUKAVU" Nanadurga. Sub temple of Ramanchira. No Sub shirens.
Choorakkottukavu Sree Durga Temple is one of the famous Durga Temple. After passage of time the deity was surrounded by choral bushes. When the laborers cleaning premises the Sickle hit on the Deity and blood was ousted. Then the public realized there is some sanctity for the place and a Temple was constructed there. One of the peculiarities of this Temple is that there is no roof for the Sanctum Sanctorum. The Deity faces to the Western side. On the front side of Sree-Kovil there is a Mukha-Mandapam. Followed by Valiyambalam and compound wall. The major festivals of this Temple is Pooram (Trichur Pooram) and "Karthika Vilakku" in Malayalam month Vrischikam, also celebrate Vijayadasami, Mahasivarathri and "Ramayanamasom".
"Karthikavilakku" is a major festival of this temple. We celebrate it for 3 days. There will be various cultural and spiritual programmes on these days. On "karthikavilakku" day there will be "Ezhunnellippu" with Elephants and "Panjavadyam".
Another major celebration of this temple is "Pooram" (Trichur Pooram). This temple is one of the major participants of Trichur Pooram. The Pooram celebration commences by ritual named "kodiyettam". After "kodiyettam" there will be "Aarattu" every day till "Kodikkal Pooram". There will be "parayeduppu" also. On the part of parayeddppu Bhagavathy on the top of caparisoned Elephant accompanied by Melam visits every house and accepts offerings. During these 7 days there will be various cultural programs also in the night. On the Trichur Pooram day at 6.30 A.M. Bhagavathy with all pomp and pageantry goes to Trichur Town accompanied by "Nadhaswaram". The villagers and devotees follow to participate in the pooram. Pakal Pooram commences at 9.30 A.M. and ends at 11 A.M .After pakal Pooram Bhagavathy takes rest in Paramekkavu Temple. Out "Rathri Pooram" commences at 10 P.M. and ends at 12 o clock. On both occasions Chenda artists perform "Pandimelam". Immediately after "Rathri Pooram" Bhagavathy returns to temple. On the next day by a ritual named "Kodikkal Pooram" our Pooram celebrations come to an end.
View Photo Gallery